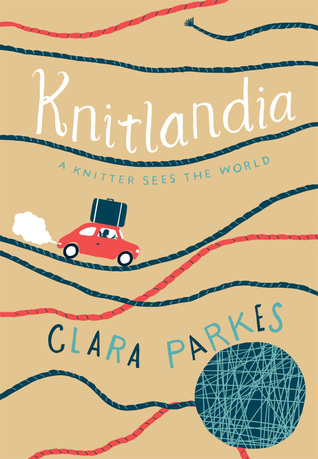 Title:
Knitlandia: A Knitter Sees the World
Author:
Clara Parkes
Genre:
Essays, Crafts
Rating:
4/5
# pages:
160
Date read:
March, 2016
Awesome book to live vicariously through! Clara Parkes takes the reader to Rhinebeck, Knitting Vogue, the Edinburgh Yarn Festival, Maryland Sheep and Wool and a number of other places where there's yarn and knitting to be found.
The most common criticism of this book is that there's a lot of name-dropping going on, and that is very true. But as I was interested in reading about most of the people whose names Clara dropped, that didn't bother me at all.
"Knitlandia" is a nice combination of essays about going to festivals (both as a participant and a teacher), and behind-the-scenes insight into websites like Ravelry and Craftsy.
I wouldn't expect a non-knitter to like the book much (and possibly not even a knitter who wasn't part of the online knitting community), but for somebody like me, who's a member of Ravelry and Craftsy, and who loves knitting podcasts with all the background given there, it's a trip through my knitty bucket list.